Stair Lifts
Welcome to MedServ, your solution for a safer and more convenient home. We understand that mobility challenges can make everyday tasks difficult, but with our top-rated stairlifts, you can regain your independence and enjoy your home to the fullest.
Our stairlifts are designed to offer the utmost safety, comfort, and ease of use. With customizable options, we ensure that each lift fits your specific needs and requirements. From curved to straight stairlifts, our product line covers all types of stairs.
---
Custom Stair Lifts to Fit Your Needs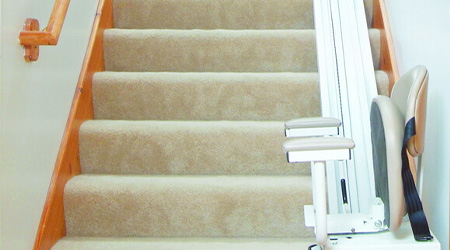 Straight
Straight stairlifts are designed for straight staircases, which are commonly found in homes. They consist of a chair or platform attached to a rail that is mounted onto the stairs. The user sits in the chair and is lifted up or down the stairs. Straight stairlifts are typically more straightforward to install than curved stairlifts and are often less expensive.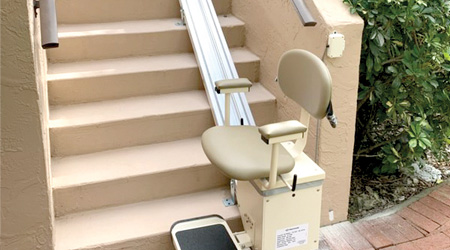 Outdoors
Outdoor stairlifts are designed to provide safe and convenient access to outdoor spaces such as patios, decks, or garden paths. These lifts are made with durable materials and are weather-resistant to withstand various conditions such as rain, snow, and sun exposure.
Custom
Custom stairlifts can be tailored to fit any type of staircase, whether it's straight or curved, and can be designed to accommodate a wide range of user needs, such as accessibility for individuals with disabilities or those with limited mobility.
---
Who can Benefit from a Stair Lift?


Stair lifts can be beneficial to a wide range of people with different needs that can be met by making it easier to go up and down stairs. Those who are ambulatory but struggle with stairs and/or wheelchair users who can laterally transfer to the stair lift are typically the most benefited. Those who have had an injury, surgery or otherwise have had their mobility limited can also benefit greatly.
---
MedServ's Local Showrooms
Come into your local MedServ showroom today to see everything we have to offer. Our friendly staff will be happy to show you all of the ins and outs (or ups and downs) of quality stair lifts. Whether its a straight stairlift or a full custom job, MedServ is here to help you regain access to your home and independence.
Contact Us today for more information!