The new EZ Sleeper with Twilight positioning technology features a modern, sleek design with a stylish track arm for ultimate comfort! View more
EZ Sleeper with Twilight Power Lift Chair Recliner
The new EZ Sleeper with Twilight positioning technology features a modern, sleek design with a stylish track arm for ultimate comfort! The world's first MaxiComfort with Twilight positioning now with a powered headrest and lumbar support! Enjoy the ultimate in custom seating comfort!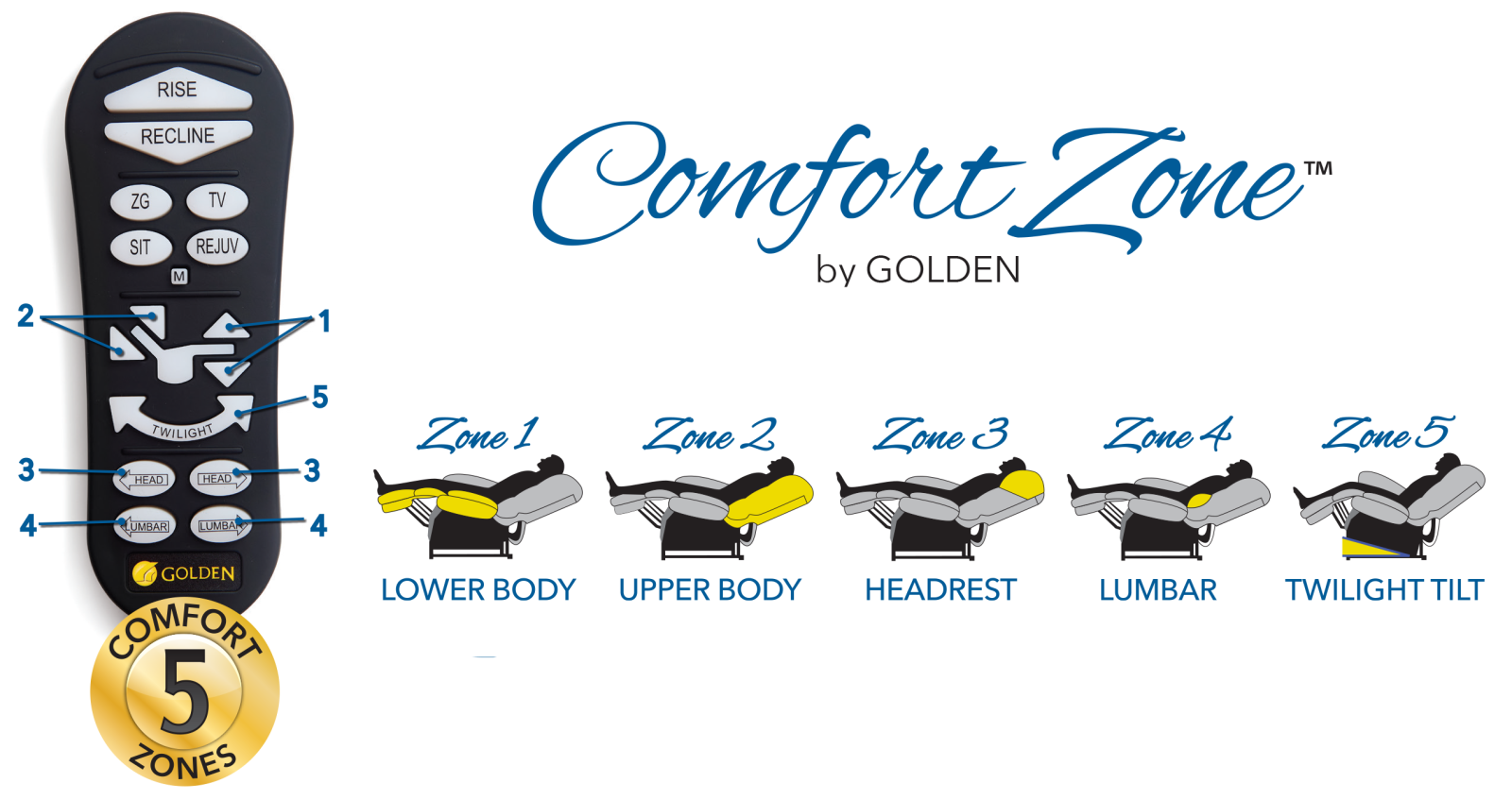 This positioning system incorporates all five adjustable comfort zones to create the ultimate wellness comfort experience. Each Comfort Zone can be adjusted independently by using the exclusive AutoDrive hand control.
Elevate and circulate in the PR761-MLA, the world's most advanced power positioning lift recliner. Golden's patented 5-motor system provides unique, rejuvenating positions along with power lumbar support and power headrest. Healthy benefits include being able to elevate the feet above the heart while experiencing a feeling of weightlessness. Twilight positions relieve pressure points and encourage proper posture by supporting the natural "S" shape of the spine.
| | |
| --- | --- |
| Dimensions (W x D x H) | 17" x 15" x 2" |
| Material | Nylon |
| Color | Black |
| Warranty | Warranty |
| Size | Medium/Large |
| Weight Capacity | 375 LBS |
| Positioning | MaxiComfort |
| Comfort Zones | 5 |
| Twilight Technology | Yes |
| Chaise Seat | Yes |
| Pocketed Coil Seat | Yes |
| Back Type | Seam |
| Head Rest Cover | No |
| Arm Rest Covers | No |
| Overall Width | 34" |
| Overall Height | 46" |
| Width between arms | 22" |
| Floor to Top of Seat | 21" |
| Seat Depth | 21" |
| Seat to Top of Back | 30" |
| Seat to Top of Arm | 8" |
| Distance Required from Wall Reclined | 24" |
| Extension Reclined Back of Seat End of Footrest | 43" |
| Lifetime Warranty, Chair/Lift Frame, Recline Mechanism | Yes |
| Electrical Parts Warranty | 3 Yrs. |
| Pro Rated Years 4 Thru 7 | Yes |
| Mechanical Labor Warranty | 3 Yrs. |
| Electrical Labor Warranty | 1 Yr. |
| Removable Back Option | No |
| Hand Control Routing | Inside Arm |
| Extra Pocket Option | Standard |
| Heat & Massage Option | No |
| Adjustable Headrest Option | Standard |
| Power Adjustable Lumbar Option | Standard |
| AutoFlex Option | No |
| Footrest Extension Option | No |
| Straight Lift Option | No |
| USB Charging Port | Control Box |
| Battery Back Up | No |
| Model | PR761 |
Patented Twilight Tilt Technology
Patented MaxiComfort® Positioning
Adjustable Headrest
Adjustable Lumbar
Programmable AutoDrive™ Hand Control
USB Charging Port
Extra Pocket
Elevates Feet Above Heart
Alleviates Pressure On Lungs
Distributes Weight
Relieves Pressure Points
Encourages Proper Posture
Supports Natural 'S' Shape of Spine
Stylish New Track Arm Design
Available in Luxurious Brisa® Fabrics With Breathable Technology