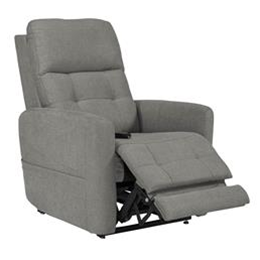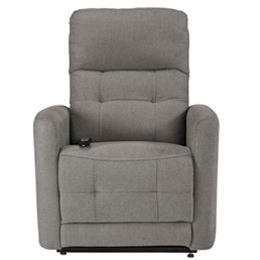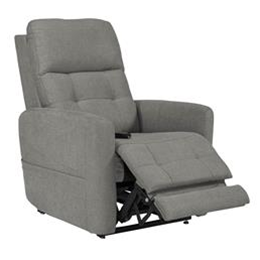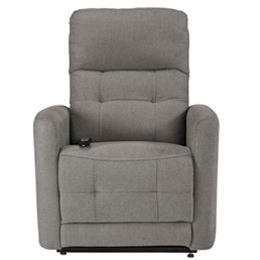 Pride Mobility VivaLift Perfecta Power Recliner is a power lift chair with the ability to do more than simply getting you from a sitting to a standing position. Complete with all the tools necessary to do the job, you can go from sitting to lying down to standing all at the push of just a few buttons.
The Perfecta is complete with five key components to make your experience an enjoyable one. At the top, a powered headrest area allows the user to adjust their head, neck, and shoulders so they can sit comfortably without straining the neck area. A Powered Lumbar Support System aligns the spine to match the head and neck areas, taking the stress away from the lower back region. The combination of head, neck, shoulder and spine support offers a comfortable sitting experience for reading or any other leisure activity. An extended footrest gives users up to 74 inches tall the ability to sit or lie down comfortably, though it's recommended for users up to 72 inches in height.
Controlling the entire chair system is a single remote control by a USB device and backed up by a lithium battery for emergencies. The controller has all the buttons necessary to place the seat at any angle with all the support you're looking for in a chair. The USB device gives the user full control without the use of cords or a connected power supply. If the power goes out for any reason, the lithium battery backup system allows the user to go through one full cycle before shutting off. This gives them the opportunity to get to either a sitting or standing position rather than being stuck between movements.
The recliner has four preset positions to help get you started: Relaxed, Reclined, Infinite Lay Flat and Upward Lift.
Product Features and Benefits
Preset Positions to Maximize Comfort from the Start
Quickly go From Sitting to Standing Any Time
Powered Headrest for Neck, Shoulder Support
Lumbar Support System Aligns the Spinal Area
Extended Footrest for Taller Persons to Sit
Single Cordless Remote Controls Everything
Battery Backup Allows for One Full Cycle
| | |
| --- | --- |
| Waterproof | 4-Layer waterproof pad |
| Options | Choice of standard rounded edges, tuck-in-flaps, or 4 reinforced |
| Size | 34" x 36" |
| Easy | Protects mattresses and bedding from moisture |
| Fabric | Surface: 50% Cotton, 50% Polyester Filling: 100% Polyester |
| Positions | Relaxed, reclined, infinite lay flat, upward lift |
| Weight Capacity | 375 lbs |
| Seat To Floor Height | 19" |
| Seat Depth | 22" |
| Seat Width | 22" |
| Top of Back to Seat | 25" |
| Back Style | Blown fibre, split button back |
| Fully Padded Chaise | Yes |
| Footrest Extension | Standard |
| Distance From Wall | 15" |
| Height | 43" |
| Overall Width | 31" |
| Chair Weight | 142 lbs |